What is the STH-PAS technology
STH (Single-stranded Tag Hybridization) method
① Target DNA is amplified by PCR with Biotin-labeled primer and single-stranded tagged primer.
② Those amplicons are mixed with Streptavidin coated blue latex and developed on PAS.
③ Colored PCR amplicons are trapped on a certain line by strong hybridization between tag sequence and complementary tag sequence.
④ The line with handling target DNA becomes the blue with trapping and accumulating colored PCR amplicon, and then target gene is detected visually.
PAS(Printed-Array Strip)
- PAS is a membrane strip which is used in the STH method. Several kinds of complementary tag DNA are linearly printed on a membrane.
- Clear blue line appears when a target DNA exists in the sample to be examined.
- Available PAS is called C-PAS (C of C-PAS means Chromatography)
Principle of the STH-PAS technology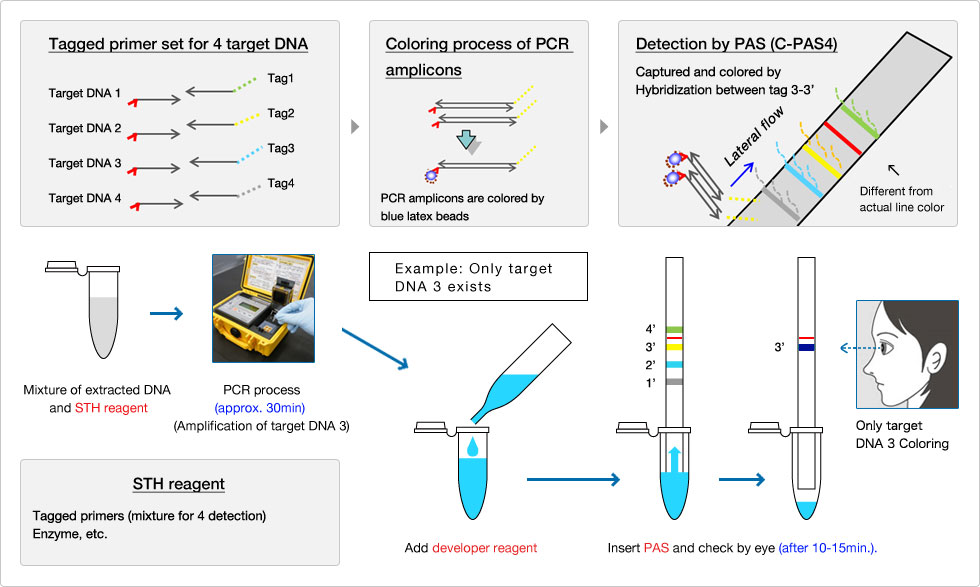 Testing protocol of the STH-PAS method

Applications
PCR Multiple detection: using STH-PAS
1) Tian L, Sato T, Niwa K, Kawase M, Mayanagi G., Washio J., Takahashi N. (2016) PCR-dipstick DNA chromatography for profiling of a subgr oup of caries-associated bacterial species in plaque from healthy coronal surfaces and periodontal pockets. Biomedical Res 37(1):29-36
2) Monden Y, Takasaki K., Futo S., Niwa K., Kawase M., Akitake H.,Tahara M. (2014) A rapid and enhanced DNA detection method for crop cultivardiscrimination. J. Biotechnology 185:57-62.
3) Tian L, Sato T, Niwa K, Kawase M, Tanner ACR,Takahashi N. (2014)Rapid and sensitive PCR-dipstick DNA chromatography for multiplex analysis of oral microbiota. BioMed Res Int, 2014, Article ID 180323.
Gene mutation detection: Probe-STH method, STH-ASO primer method
Multiple mutations such as SNP can be detected rapidly, easily and cost effectively.
(Construction of SNPs detection method by STH-PAS, The 89th Annual Meeting of Japanese Society for Bacteriology P1-186)
Application of isothermal amplification
Multiple detection is possible in isothermal amplification method such as LAMP method which doesn't require special equipment.
(Development of rapid and easy detection method for foodborne pathogens by DNA Chromatography. The 38th The Japanese society of food microbiology A-12)