SNPs can be detected with C-PAS.
C-PAS is a genetic testing strip used in STH method (Single-stranded Tag Hybridization). C-PAS can also detect SNPs (single nucleotide polymorphism) easily. SNPs are very important in health and medical fields. By detecting SNPs, diabetes, obesity, hypertension and susceptibility of medicine etc. can be revealed.
Usually, DNA arrays and next-generation sequencers are used to detect SNPs, but we hear disadvantages such as high cost and complicated usage. On the other hand, detection with C-PAS is low cost, no need expensive equipment and easy-to-use.
The operation protocol is simple: Just add tagged probes to PCR reagent including ordinal primers. After PCR, add coloring agent and insert C-PAS, and then blue lines appear on C-PAS, so the result is visually judged.

This method is called "probe-STH method". Such a wonderful examination is possible by the principle as follows.

We are looking for companies to do business together using this method. Our ideal business scheme is:
TBA supplies materials in bulk form to the kit manufacturer. The kit manufacturer manufactures final kit and sells.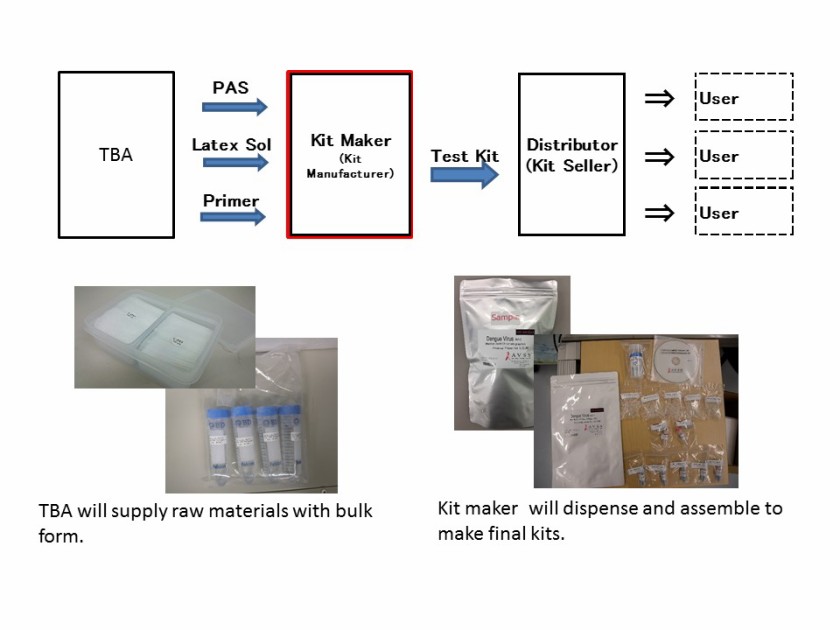 Or, if you are working at a hospital or testing center and are looking for new test methods, please try our C-PAS.

I hope the probe-STH method will be useful to the world.
TBA co., ltd